Renishaw (LON:RSW) Earns Sell Rating from UBS Group

UBS Group restated their sell rating on shares of Renishaw (LON:RSW) in a report issued on Wednesday, November 14th, investing.thisismoney.co.uk reports. They currently have a GBX 3,704 ($48.40) price objective on the stock, down from their previous price objective of GBX 4,535 ($59.26).
RSW has been the topic of several other reports. Peel Hunt restated a reduce rating on shares of Renishaw in a report on Thursday, July 26th. Numis Securities boosted their price objective on shares of Renishaw from GBX 5,200 ($67.95) to GBX 5,900 ($77.09) and gave the company a hold rating in a report on Monday, July 30th. Finally, Barclays restated an underweight rating on shares of Renishaw in a report on Wednesday, September 26th. Four equities research analysts have rated the stock with a sell rating, two have assigned a hold rating and one has issued a buy rating to the stock. Renishaw has a consensus rating of Hold and a consensus target price of GBX 4,413.17 ($57.67).
Shares of LON RSW traded up GBX 2 ($0.03) during trading on Wednesday, hitting GBX 4,182 ($54.65). 73,776 shares of the company were exchanged, compared to its average volume of 89,834. Renishaw has a 12-month low of GBX 3,024 ($39.51) and a 12-month high of GBX 5,820 ($76.05).
In other Renishaw news, insider Carol Chesney purchased 500 shares of the business's stock in a transaction on Friday, October 19th. The shares were bought at an average cost of GBX 3,781 ($49.41) per share, for a total transaction of £18,905 ($24,702.73). Also, insider William Lee purchased 800 shares of the business's stock in a transaction on Tuesday, October 23rd. The shares were acquired at an average price of GBX 3,727 ($48.70) per share, for a total transaction of £29,816 ($38,959.89).
Renishaw Company Profile
Renishaw plc, a metrology company, designs, manufactures, distributes, sells, and services metrology and healthcare products worldwide. The company offers metrology products, including additive manufacturing systems, co-ordinate measuring machine products, machine tool probe systems, styli for probe systems, performance testing products, gauging systems, fixtures, and position encoders.
Featured Article: Purposes and Functions of the Federal Reserve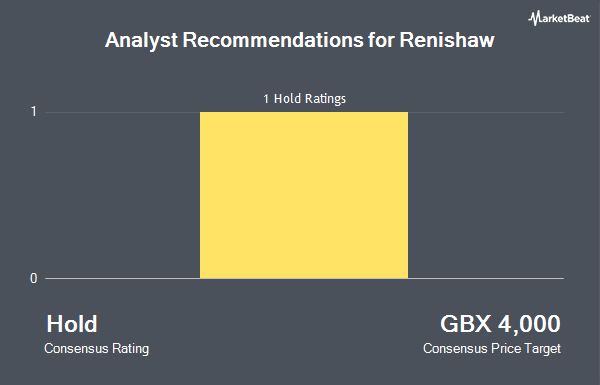 Receive News & Ratings for Renishaw Daily - Enter your email address below to receive a concise daily summary of the latest news and analysts' ratings for Renishaw and related companies with MarketBeat.com's FREE daily email newsletter.