CIBC Lowers Turquoise Hill Resources (TSE:TRQ) Price Target to C$5.10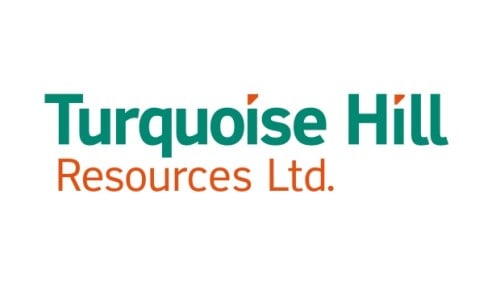 Turquoise Hill Resources (TSE:TRQ) (NYSE:TRQ) had its price target cut by equities researchers at CIBC from C$5.30 to C$5.10 in a research note issued on Friday, August 31st. CIBC's target price would indicate a potential upside of 83.45% from the stock's previous close.
Separately, Scotiabank set a C$5.25 price target on Turquoise Hill Resources and gave the company an "outperform" rating in a research note on Monday, May 14th.
Shares of TSE TRQ remained flat at $C$2.78 during mid-day trading on Friday. The stock had a trading volume of 2,084,500 shares, compared to its average volume of 845,088. Turquoise Hill Resources has a 1 year low of C$2.76 and a 1 year high of C$4.52.
Turquoise Hill Resources (TSE:TRQ) (NYSE:TRQ) last released its quarterly earnings data on Tuesday, July 31st. The company reported C$0.12 earnings per share for the quarter. The firm had revenue of C$441.06 million during the quarter. Turquoise Hill Resources had a return on equity of 2.31% and a net margin of 13.48%.
In other news, Director Robert Peter Charles Gillin purchased 10,000 shares of the company's stock in a transaction that occurred on Friday, September 7th. The stock was bought at an average cost of C$2.89 per share, with a total value of C$28,900.00.
About Turquoise Hill Resources
Turquoise Hill Resources Ltd., together with its subsidiaries, operates as a mining company. The company explores for copper, gold, silver, and molybdenum deposits. It primarily develops and operates the Oyu Tolgoi mine located in the southern Mongolia. The company was formerly known as Ivanhoe Mines Ltd.
Further Reading: Dow Jones Industrial Average (DJIA)
Receive News & Ratings for Turquoise Hill Resources Daily - Enter your email address below to receive a concise daily summary of the latest news and analysts' ratings for Turquoise Hill Resources and related companies with MarketBeat.com's FREE daily email newsletter.