Hurco Companies, Inc. (HURC) Plans Quarterly Dividend of $0.11

Hurco Companies, Inc. (NASDAQ:HURC) declared a quarterly dividend on Friday, June 15th, NASDAQ reports. Shareholders of record on Friday, June 29th will be paid a dividend of 0.11 per share by the scientific and technical instruments company on Friday, July 13th. This represents a $0.44 annualized dividend and a yield of 0.96%. The ex-dividend date of this dividend is Thursday, June 28th.
Shares of Hurco Companies traded up $1.25, hitting $45.75, during trading hours on Friday, according to Marketbeat. The company had a trading volume of 79,929 shares, compared to its average volume of 23,314. The firm has a market cap of $298.90 million, a PE ratio of 14.88 and a beta of 0.37. Hurco Companies has a 52-week low of $32.65 and a 52-week high of $50.50.
Hurco Companies (NASDAQ:HURC) last posted its quarterly earnings results on Friday, June 8th. The scientific and technical instruments company reported $0.55 earnings per share (EPS) for the quarter. The firm had revenue of $70.42 million during the quarter. Hurco Companies had a return on equity of 9.81% and a net margin of 6.27%.
In other news, Director Andrew Sheeley Niner sold 1,500 shares of Hurco Companies stock in a transaction dated Friday, April 13th. The stock was sold at an average price of $45.86, for a total value of $68,790.00. Following the completion of the transaction, the director now owns 9,683 shares of the company's stock, valued at approximately $444,062.38. The transaction was disclosed in a legal filing with the SEC, which is available through
the SEC website
. In the last ninety days, insiders sold 19,836 shares of company stock valued at $902,142. 8.30% of the stock is owned by insiders.
Several equities analysts have recently issued reports on the company. BidaskClub raised Hurco Companies from a "sell" rating to a "hold" rating in a research report on Friday, May 18th. ValuEngine lowered Hurco Companies from a "buy" rating to a "hold" rating in a research report on Wednesday, May 2nd.
Hurco Companies Company Profile
Hurco Companies, Inc, an industrial technology company, designs, manufactures, and sells computerized machine tools to companies in the metal cutting industry worldwide. The company offers general purpose computerized machine tools, such as vertical machining centers and turning centers. It also provides computer numerical control (CNC) machine tools, knee mills, vertical machining centers, tool room bed mills, combination lathes, horizontal machining centers, slant-bed lathes, and bridge mills; and double column vertical machining centers, and high-speed drill and tap machines.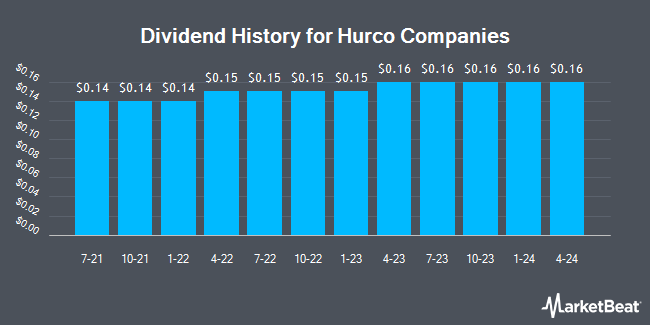 Receive News & Ratings for Hurco Companies Daily - Enter your email address below to receive a concise daily summary of the latest news and analysts' ratings for Hurco Companies and related companies with MarketBeat.com's FREE daily email newsletter.